We've started a new year when many paint manufacturers and designers reveal their top picks for house painting color trends in 2016.
What shades do they think you should spend your hard-earned cash on this year? One emerging trend may surprise you.
Classic White Makes a Comeback
While gray continues to be today's popular go-to neutral color, colors that some would call "colorless" – fresh, crisp white and soft soothing shades of off-white – are now taking center stage.
While some may visualize white as a cold and sterile color, it provides a blank canvas that allows bold accent colors, striking architectural details, unique furniture, exposed beams, or fun accessories to take center stage.
"The color white is transcendent, powerful, and polarizing," says creative director of Benjamin Moore Color Studio, Ellen O'Neill. The company's forecast includes many shades of white, with Simply White their top pick of the year.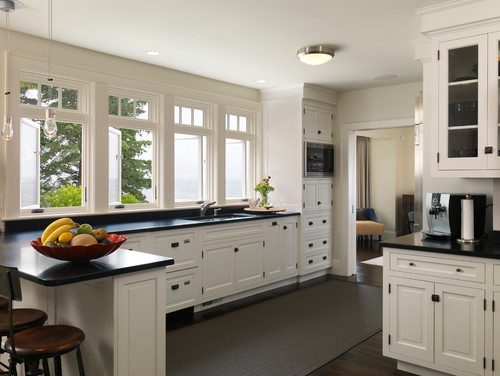 Glidden also points to a shade of white as 2016's noteworthy trend. The company's experts agreed on Cappuccino White as a delicate, creamy neutral that creates a peaceful calm in any space. Think of the subtle, soothing color of warm white sand.
Sherwin-Williams's chose Alabaster as it's color of the year, a shade that offers visual relief for an uncluttered look. "Alabaster is neither stark nor overly warm, but rather an understated and alluring hue of white," says Director of Color Marketing, Jackie Jordan.
"I think design is moving back to its roots. It's not about flash and the latest technology; it's more about classic elements that make us feel good," says Celebrity Interior Designer, Erinn Valencich, whose work has been featured in Architectural Digest and Town & Country.
What other colors made the list of top picks?
Other Popular Color Trends
Of course, white is not your only option. Benjamin Moore's Color of the Year announcement was accompanied by a corresponding palette of 23 additional paint colors dubbed the Color Trends of 2016. Meant to illustrate how white works in the color spectrum, the selections include a variety of vibrant shades like Lemonade (a pale yellow), Patriot Blue (a deep cerulean), Ravishing Red (a vibrant rouge), and Gentle Violet (a rich plum). You can see the entire color palette at Benjamin Moore
Kelly-Moore Paints selected Horizon Gray as their 2016 color of the year after a survey of interior designers and members of the American Society of Interior Designers (ASID). "Within the 2016 palette, we see a shift from cleaner, high chromatic colors, to more softened, calmer colors," says Manager of Color Marketing, Mary Lawlor.
Earthy naturals reigns supreme in the Dunn-Edwards color palette. Back at the Ranch, Manor Born, Midnight at Bar do Copa, Summer Camp, and an Island to Myself their list of top 2016 paint trends.
Olympic went with a daring blue – Blue Cloud – named for its sparkling and deep undertone that resembles the ocean on a clear day. Valspar chose four palettes to go with every mood and then recommended the perfect match of white to be used on doors, trims and ceilings. Their palettes include Comfort Zone (a selection of soft, calm colors), Simply Perfect (a stylish set of grays), You Do You (expressive bold colors), and Good Company (a collection of rich, traditional artisanal shades).
So there you go. The big guns in the industry have had their say in what's trending this year. Which color palette makes you swoon? Will you choose a classic shade of white that goes with everything, earthy colors reminiscent of the Old West, or a glamorous sapphire-like blue?
The perfect color palette and stylish space is waiting for you to decide.
by